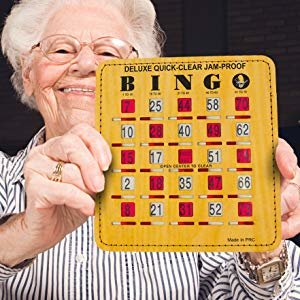 Bingo Card - Slider style




$200.00

Please call to reserve this item.

Bingo Card - Slider Style
3 Monkeys Party & Event Novelty Rentals delivering to York, Harrisburg, Lancaster, Carlisle, Baltimore, Reading, Camp Hill & more Pennsylvania and Maryland Cities
JAM PROOF: The thick 6-ply bingo card game measures 6.5" L x 6.375" W with 1/2" easy to move windows.

STITCHED EDGES: The clear film over 3/8" numbers with contrasting red slide windows & stitched edges makes for a glamorous look.

FUN GAMES: Great for family games, outdoor games, game indoor, party games for kids, travel games, and group games.

AFFORDABLE: Bingo cards reusable are suitable for all ages & gets cleared by moving window to left.

CUSTOMER CENTRIC: As a premium brand, we adhere to best product & the most uncompromising quality cards.
ONE-OF-A-KIND UNIQUE BINGO SHUTTER CARD
The ONLY bingo shutter cards on the market with sliding windows featuring proprietary jam-proof technology and quick-clear design all-in-one.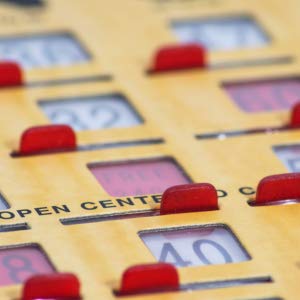 LARGE EASY TO USE FINGERTIP TABS
Proprietary molded shutters with big red sliding tabs are easy to use by a child or adult and offer a fast-paced game.
Bingo Card - Slider Style rental is great for all types of events including school events, college events, fellowship events at churches, corporate picnics where you may desire to award prizes, family reunions, and many other types of events. Designate a BINGO caller who has a lot of personality to make the game of BINGO extra fun for the players! You may also want to rent our sound system which comes with a microphone so the caller does not have to shout and everyone can clearly hear the letter/number combinations that are called out.
How to Play BINGO
Each player will get a bingo card (or two, or three). The rules of the game must be announced so that the winners know when it is okay to shout, "Bingo!" for that given round. Common wins are a vertical line, a horizontal line, a diagonal line, a postage stamp (4 in a corner), 4 corners, and even the full card! The designated bingo caller will pull a letter/number combination and announce it to the players. Each player will then quickly search their card to see if they have that number under the correct column. If they find the number they will slide the slider over the number. Once a player feels he or she has won they must shout out, "BINGO!" They will then need to read their winning numbers to the caller to confirm their win. A single game typically ends once, "BINGO," has been called by a player. All players will then "clear their cards" by sliding the window back over the numbers to reset the card so that they can play again. Be careful because hours will go by once you start playing this classic game, Bingo!
Fundraiser Events
The game of Bingo is often played as a fundraiser event. A certain number of tickets are typically sold so that players are limited to a certain amount. Each player pays to play per card and gifts, baskets, purses, or other items are donated and the winners play rounds of Bingo for a certain prize. These types of events have grown quite popular over the years and have helped a large number of organizations to raise money.