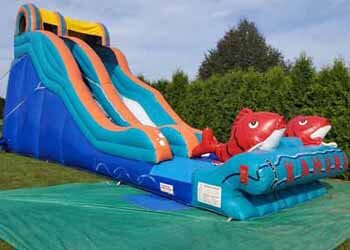 Big Kahuna Waterslide 18ft (#70)




$429.00

Please call to reserve this item.

BIG KAHUNA WATERSLIDE RENTAL
3 Monkeys Inflatables

York Pennsylvania Waters Slide and Party Rentals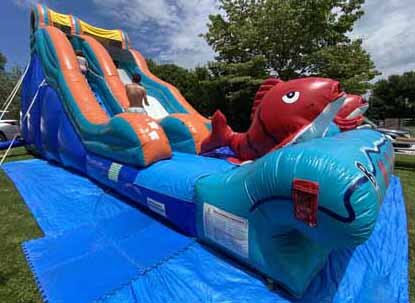 Big Kahuna Slide featuring 18ft High by 35 ft Long - Fun in the sun! Enjoy the fun colors and exciting theme the Kahuna slide offers...how could you not smile looking at that slide! We are so excited to have this slide as part of our lineup! The Big Kahuna Waterslide Rental will be a hit at your next party.
Big Kahuna Waterslide 18ft Rental
3 Monkeys Inflatables offers you a 35 ft long x 14 ft wide x 18 ft high water slide. It is great for ages 4-16. This slide is a commercial-grade water slide rental and so it is also fine for teens and adults. All of our inflatables are inspected, registered, and approved for use in Pennsylvania and Maryland. 3 Monkeys Inflatables rentals are cleaned and sanitized as they go out and on cleaning days. Don't miss out on this water slide, as they book up quickly for the summertime.
Ready to book the Big Kahuna Water Slide 18ft Rental?
If you are ready to book the Big Kahuna Water Slide 18ft Rental, you can book this easily online now. To book online we would need your party information and a 25% security deposit to hold your rental. Make sure you take a look at our website and check out our selection of Tents, Tables, Chairs, and Carnival Games that would pair great with this combo! We have a large selection of carnival, yard and giant games to entertain all ages and skill levels. As always if you have other questions, or just feel more comfortable booking over the phone, give us a call at 717-650-7657 so we can best assist you!
Work with the best!
3 Monkeys Inflatables has been providing Water Slide Rentals to the York Pennsylvania area since 2007. Give our established and highly recommended services to see why our customers rate us #1 in the party rental and event industry. We can help to make your party or event an amazing experience. We proudly deliver to many cities including Dallastown, Hanover, Lancaster, Harrisburg, Spring Grove, Carlisle, Camp Hill, Baltimore, Reading, and more.




Kahuna Water Slide Rental Requirements:
Occupancy: 3 (1 on steps, 1 at the top, one sliding down)
Dimensions: 35' L x 14' W x 18'H
Water Source: Hose
Outlets: 1 Standard 110-volt GFCI outlet (10 amps total) within 100 feet of the unit.
Generator
Rentals for Big Kahuna Water Slide are available.
Kahuna Attendants/Monitors: This item requires (1) the Attendant to stay with the unit while in use. You may use your own attendant, or book an attendant with us here for the kahuna slide
. Read more about attendants here.
Kahuna Setup: We would need to know specifically if it will be on grass or asphalt a minimum of 5 days prior to your booking. All anchors need to be secured using a spike or sandbag according to the manufacture's guidelines. We prefer to use ground stakes when possible, if this is not an option we will need to anchor using sandbags.
Kahuna Setup Location:
1. Your setup location needs to be free of rocks, pet waste, sharp objects, or any other hazards.
2. We cannot set up under any utility lines and must have a clearance of 5 feet in all directions away from any obstacles.
3. Please make sure you clear a spot for us to park & unload the equipment as close to the location as possible. If your parking is further than 75 feet please notify our office or put it in the notes portion of your booking.
Kahuna Water Slide Includes:
Professional setup/tear down.
We are registered with the Dept of Pennsylvania/Maryland State Amusement Industry
We have Liability Insurance
Pre and Post Event Cleaning, Sanitizing and Inspection
Staking and/or Sandbagging
Tarping (not indoors as it becomes a safety concern)
Extension Cords (we bring out the extensions needed to get electric to the spot you are setting up in) Keep in mind we can only go 100 ft max.
Safety Training
Kahuna Water Slide Questions and Answers:
Q: Do I need to supply the water?
A: Yes, you will need to have a water supply with a garden hose attached to it. We ask that you have the garden hose pulled out to the setup area on the day of your setup so that our delivery crew can connect it to our connector hose that will be on the slide.
Q: Does this come with a blower?
A: Yes, all of our inflatables include the blower but you will need to supply power. We can run power up to 100 feet. If there is no power source within 100 feet of the setup area you will need to rent a generator.
Q: Can I use my own extension cords?
A: No. We supply extension cords and we only use our own because we know that they pull the correct amount of power for our blowers.