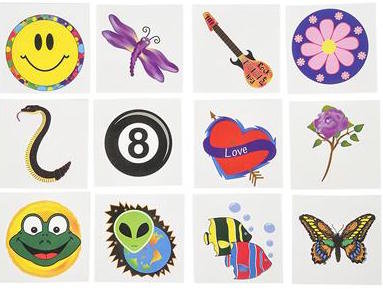 Assorted Tattoos




$12.00

Please call to reserve this item.

Assorted Tattoos Rentals York Pennsylvania
3 Monkeys Inflatables is your Craft, Make and Take Party Event Rental Specialist in Lancaster, Harrisburg, Camp Hill, Hanover, Red Lion, and Wyomissing.
The assorted tattoo's come in a variety of super cute designs from just the happy face, flowers, snakes, frogs, eight balls, hearts, fish, butterflies, aliens, and guitars. They are roughly 2 inches in size so they will fit nicely on a little girl's or boy's arm or hand. They do come in a varied amount of colors that are well known to be associated with the items they are representing. This assortment of temporary tattoos are water-activated so they will stick to the skin when they are applied with water. The directions are printed on the back of each tattoo making it super simple to adhere to your participant's skin. They however can easily wash off the skin with just a simple soap and water hand wash. There are 72 various stickers in each set making this a great deal. York Pennsylvania Parties are great to offer tattoos at for party rentals.
Application:
These are nontoxic assortment temporary tattoos so therefore they are safe for skin contact on ages 3 years and older. They are easy to apply simply press firmly on dry skin and wet the back of the tattoo with a damp cloth or towel for 20 seconds. That is it...it will stay on temporarily until you wash it off with soap and water.
Idea's for use:
These make excellent party favors for any type of backyard party since they can accommodate both girls and boys. These are also great for any fair, festival, corporate event, school event, church events, Mayday, and open houses. There are unlimited possibilities of what type of events you can use these for. This item does not come with an attendant as it's pretty self-explanatory of how to use these tattoos.

Fun and easy. These temporary tattoos provide a colorful brand of body art.

Assortment includes flowers, guitars, aliens, fish, hearts, butterflies, and snakes. Detailed instructions included. For ages 5+.
Instructions for use:
Step 1: Carefully trim the tattoo around the image to capture just the image to transfer. Take off protective film.

Step 2: Press firmly on clean, dry skin tattoo side down.

Step 3: Wet the back of the tattoo thoroughly with a damp sponge or cloth.

Step 4: Wait 20 seconds then carefully peel the backing. Rinse and let dry.