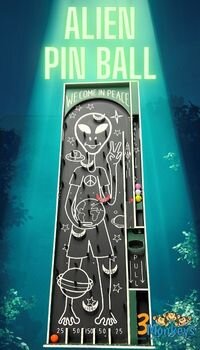 Alien Pin Ball Carnival Game
Actual Size: 23 in x 70.5 in x 10 in
Outlets: NONE
Attendants: 1





$95.00

Please call to reserve this item.

Alien Pin Ball Carnival Game Rental
Awesome Pin Ball Game Rentals in Central PA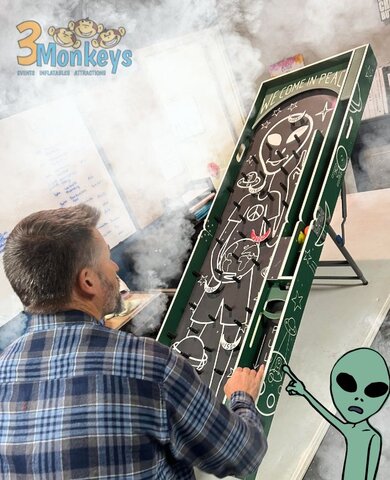 This Alien Pin Ball Carnival Game Rental puts a portable spin on the classic, beloved Pin Ball Games that you used to play in arcades or even pizza shops. This pin ball machine is manually operated by the player, as there is no electricity required. Alien pin ball is played with different colored golf balls. Players will take turns to see how many points they can rack up by landing the ball on different places on the alien themed board.
How to Play Alien Pin Ball
This alien pin ball carnival game rental can either be placed on top of a table or on the floor. If you are placing pin ball on top of a table you will need at least a 6 foot table. The first player will step up to the game and pull the handle where it says "PULL." Pulling the handle and releasing it will launch the first golf ball up and around into the playing area. There are pins located on the board that will cause the ball to bounce its way around the board until it eventually lands in one of the scoring positions or at the bottom of the board in one of the scoring slots. The nice thing about this alien pin ball carnival game rental is that you can determine how many balls each player gets depending on the length of the line or the amount of attendees at the event. So for example, if you give each player three balls, they will launch all three balls and add up the points they accumulated with their three turns. Rent Alien Pin Ball and give it a try! Do you think you will be the high scorer in Alien Pin Ball at your event?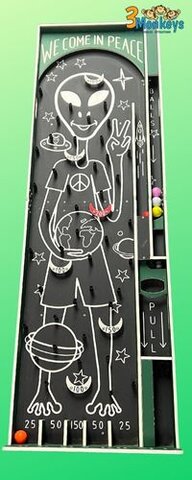 Renting Alien Pin Ball
If you would like to add this pin ball game rental to your party rental order you can simply add it to your cart with the other items you wish to rent and proceed through our online checkout procedure. Once you click on the calendar, it is a live calendar which means it will show you real-time item availability. You will be asked to enter your personal information as well as your party information. On the final checkout screen, you will need to do a 25%, non-refundable, credit card deposit in order to reserve your desired items for your party date and times. You can then pay the rest of the balance any time up until the time of set up. If you would prefer to speak to one of our staff members to book your party rentals, call our office Mondays through Fridays between the hours of 9 a.m. and 5 p.m. at 717-650-7657. You can also reach us by email seven days a week at info@3monkeysinflatables.com.
Other Fun Carnival Games for Rent
In addition to alien pin ball we have some other fun carnival games for rent too. Check out our Plinko carnival game, Ring Toss, Monster Blast, Whip-N-Skip, Snake Pit, Wacky Wire, and Troll Denstist. We also have inflatable games to rent such as basketball toss, hoverball archery, qb blitz football toss, soccer shootout, ice hockey shootout, and skeeball. Carnival games really gets your crowd interacting and having fun.
Delivery in Central PA and Northern MD
Our main delivery area is all of Central PA and Northern MD. However, if you are not in theses areas, that does not mean we won't deliver to you. Please understand that there are order minimum requirements as well as travel fees and the order minimums must be met prior to any taxes or travel fees. Some of the cities we deliver to include Felton, Red Lion, York, New Freedom, Stewartstown, Glen Rock, Brogue, Manchester, Spring Grove, Harrisburg, Mechanicsburg, Hershey, Lebanon, Carlisle, Lancaster, Manheim, Lititz, Shermans Dale, Quarryville, Brownstown, Mohnton, Reading, Bel Air, New Freedom, Timonium, Cockeysville, Baltimore, Parkton, Whitehall, and Monkton to name a few.