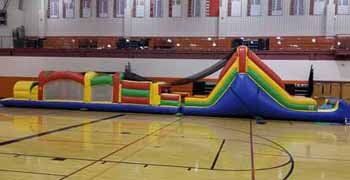 65 Foot Obstacle Course/Slide Challenge (#10A/#10B)
Actual Size: 65x20
Setup Area: 70x25
Outlets: 2
Age Group: 2-99
Attendants: 1





$519.00

Please call to reserve this item.

65 Foot Obstacle Course Rental York, PA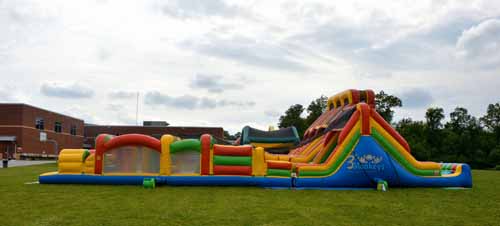 65ft Obstacle Course for rent to York, Harrisburg, Lancaster, Carlisle, Baltimore, Reading, and more Pennsylvania & Maryland Cities
65ft Obstacle Course Features
The 65ft Obstacle Course Rental offers you the primary-colored look and simplicity of a great-looking obstacle most participants can wait to jump on to compete against their friends or family. The 65ft Obstacle is known for all of its details when you get inside with the barrel rolls, the multiple pop up you have to dodge, along with the squeeze through elements and climbing wall to climb up and over and ending of course with the rock climb type inflatable element that leads you to the slide for your victory slide down to the winner's circle! Ok, so who's next to compete? The Kids Obstacle n Slide for Rent York is ready for your kids to play and race against one another. It is truly the perfect kid's obstacle course rental.
Are you ready for the 65-foot challenge?
Race against your opponent to see who can crawl, jump & dive through the various obstacles the fastest! Rent this as one attraction or rent as an obstacle or a slide! This 65 foot Obstacle Course combines the 40-foot Obstacle Course with a towering 14-foot tall wall climb and slides to extend the fun another 25 feet. At 65 feet long, this course is a challenge for children and adults alike. Challengers position themselves at the portal-like entrance of the 65' Obstacle Course before they dive head-on into the course. Up ahead is the familiar vertical pop-ups followed by the horizontal hurdles leading into the second section of similar challenges. After clearing the second set of hurdles, the challengers must crawl through a tunnel before enjoying the exhilarating climb up and then slide down to the finish.
Most Popular Kids Obstacle Course
The 65ft Obstacle Course gets the distinct rating of being our most popular kids Obstacle Course Rental! We know that if given the choices of all the amazing obstacles our 65ft Obstacle Course Rental will beat out all of our obstacles for the best obstacle rental in our history! We also suggest our most popular ADULT obstacle course rental the Nuclear Explosion obstacle, or the 72ft Camo Obstacle Course that is amazing adult, teen, kid, or any age-friendly Inflatable Obstacles Course Rentals. The 65ft Obstacle is a race obstacle as opposed to a playground obstacle. This means of course you will challenge another opponent and race against them to see who will be the winner. The benefit of a race obstacle for your party or event is typically kids are eager to race against friends so there is no need to call them out and encourage kids to race through so lines tend to be shorter waits and kids get great exercise from running through the obstacle.
Can you set up obstacle courses inside?
Yes, you can absolutely set up obstacle courses inside! The main thing you want to check when ordering obstacle courses inside your party venue, is the spacing. This really goes for any inflatable. The obstacle courses can be long depending upon which one you rent though so you want to double check that you are getting the correct length obstacle course for what space you have to work with. In addition to the length of the obstacle course we ask for anonther five feet for safety.
How do I book this 65' obstacle course?
Booking is simple once you have figured out what you want to rent for the day you can simply click on the check availability button on the right-hand corner of the website. (if you are lost in pages and pages of content simply click on the logo to bring you back to the home page and re-start your adventure by clicking on that green calendar on the right side that simply says Check Availability) After you have clicked it will ask you to choose a date you will choose your party date and then your party times (This is the times you want it set up and ready to go by and the pickup time) Our rentals are traditionally 8-9 hours so plan to choose that time frame unless you want to push it to pick up the next morning for just $40 more! After you have chosen your date and times it will ask you what item you want, if you know the name you can put that in the search bar at the top search for it, and add it to the cart if you alternatively want you can just choose from the category and find the item that way...once added to the cart you can choose if you want the damage waiver (explanation on what that is on that screen) and choose your city/zip, then you will hit continue and enter your delivery details along with your best phone # and email address. When finished it will confirm the details and ask you for a 25% deposit with the remainder not being due until the day of the rental. We will then send you a confirmation email and then another email 2 days prior to your rental to confirm your delivery details with you. That's it...it's that simple! If you need help or you want us to add the order for you we would love to assist with this. Simply call us at 717-650-7657 or info@3monkeysinflatables.com We cannot wait to work with you and Thank you for supporting our business!
65ft Obstacle Course Requirements:
Occupancy: 2 opponents at a time. We recommend kids under 12 for this unit.
Dimensions: 65L x 11W x 13H
Outlets: 3 Outlets (31.6 amps total) 110-volt GFCI outlets within 100 feet of the unit. Generator Rentals are also available Generators for the 65ft Obstacle Course can be rented here.
Attendants/Monitors: This item requires (1) the Attendant to stay with the unit while in use. You may use your own attendant, or book an attendant with us here. Read more about attendants here.
Setup Location: Please specify when you book this item if you will be setting up Indoors or Outdoors. If outdoors we would need to know specifically if it will be on grass or asphalt a minimum of 5 days prior to your booking. All anchors need to be secured using a spike or sandbag according to the manufacturer's guidelines. We prefer to use ground stakes when possible, if this is not an option we will need to anchor using sandbags.
Setup Location FYI:
1. Your setup location needs to be free of rocks, pet waste, sharp objects, or any other hazards.
2. We cannot set up under any utility lines and must have a clearance of 5 feet in all directions away from any obstacles.
3. Please make sure you clear a spot for us to park & unload the equipment as close to the location as possible. If your parking is further than 75 feet please notify our office or put it in the notes portion of your booking.
65ft Obstacle Course Includes:
Professional setup/tear down.
We are registered with the Dept of Pennsylvania/Maryland State Amusement Industry
We have Liability Insurance
Pre and Post Event Cleaning, Sanitizing and Inspection
Staking and/or Sandbagging is dependent on what you choose.
Tarping (not indoors as it becomes a safety concern) as needed
Extension Cords (we bring out the extensions needed to get electric to the spot you are setting up in) Keep in mind we can only go 100 ft max.
Safety Training