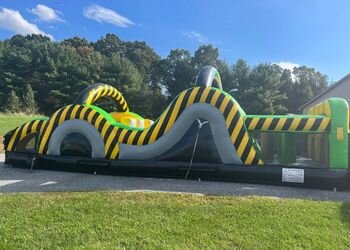 35' Obstacle Course (#97)




$379.00

Please call to reserve this item.

Challenge Yourself with Our 35-Foot Obstacle Course Rental
Experience the Thrills of the Radical Run 35-Foot Obstacle Course Rental
A Little Bit About the 35' Obstacle Course
Get ready for an adventure with our 35-foot obstacle course rental, part of the Radical Run Explosion series. This thrilling course is packed with different obstacle features, making it an exciting challenge for two participants at a time. You can turn it into a race obstacle with a "Ready, Set, Go" type of race or let each participant go through the course at their own pace. Riders will enter through the yellow opening, which is almost shaped like the human body, and be greeted by pop-up obstacles. After bobbing and weaving their way around the pop-ups, they will face a small rock climb wall. They'll then make their way around a few more pop-ups, climb a second, smaller wall, and crawl through the exit tunnels to claim victory! Our 35' obstacle course rental is perfect for any event that needs a little extra excitement, from backyard parties to corporate team-building events.
This obstacle course measures 35'L x 11'W x 12'H and requires a setup area of 45'L x 21'W x 15'H. It has one blower that requires a standard power outlet, preferably within 50' of the set up location. This blower pulls about 9 amps.
How to Rent the 35' Obstacle Piece of the Radical Run Explosion
Ready to add the Radical Run Explosion 35-foot obstacle course rental to your event? It's easy to do! Simply click the "Add to Cart" button on this page and follow the prompts to select your party date, start and end times, and delivery address. Make sure to choose the correct city from the drop-down menu or contact our office if your city is not listed. We want to ensure that the delivery fee and order minimum requirements are accurate for your specific location. You can call our office at 717-650-7657, Monday through Friday between the hours of 9 a.m. and 5 p.m., to get more information. Once you have selected your city, the online checkout system is quick and easy to use. We require a 25% non-refundable deposit to hold the rental for your desired date and time, and the remaining balance can be paid any time up until the delivery date. Don't miss out on the fun and excitement of the Radical Run Explosion 35-foot obstacle course rental. Book yours today!
I booked my inflatable party rental, now what?
Once you place your rental for your inflatable, whether it be over the phone with our office or online, you will receive an invoice in your email with the breakdown of all the costs. You will also receive a text message thanking you for your order. To make things easy on you and our set up crew you may want to click the link in the invoice email to digially sign your contract. This is one less thing both you and our crew have to worry about the day of the event. If you prefer to wait and sign a paper contract, you can certainly do that with our driver upon delivery. A few days prior to your party date you will hear from us either via email or with a telephone call to confirm the details of your order and at this time we will inform you of your estimated days and times for both set up and pick up.
Our Delivery Area
Our main delivery area are cities in both Central Pennsylvania and Northern Maryland. Some of the areas you will frequently see our trucks are: York, Red Lion, Dallastown, Brogue, Stewartstown, Glen Rock, Shrewsbury, Seven Valleys, Dover, Manchester, Spring Grove, Harrisburg, Mechanicsburg, Carlisle, Columbia, Lancaster, Leola, Quarryville, Willow Street, Lititz, Manheim, Brownstown, Reading, West Lawn, Wyomissing, Douglassville, Baltimore, Owings Mills, Glen Arm, Sparks Glencoe, Cockeysville, Hunt Valley, Middle River, and other surrounding cities!