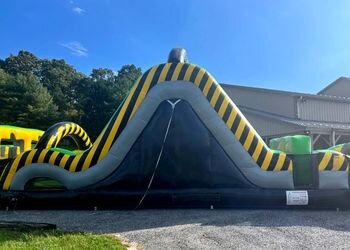 30' Rock Climb Slide (#99)




$369.00

Please call to reserve this item.

Get Ready for Adventure with 30' Rock Climb Slide Rental!
Experience the Thrill of Climbing and Sliding with Our Rock Climb and Slide
About the 30' Rock Climb Slide Rental
Looking for an exciting adventure that will challenge your climbing skills and give you an adrenaline rush? Look no further than 3 Monkeys Inflatables' 30' Rock Climb Slide Rental! This is one of three pieces in our Radical Run Explosion obstacle course series, and it's guaranteed to provide a thrilling experience for all ages.
Measuring 30' in length, 11' in width, and reaching a height of 16' at its highest point, our Rock Climb Slide is sure to impress. It does require 1 outlet for the blower which is included with the rental, making it easy to set up and get started on your adventure. This attraction is designed for 2 participants at a time, so you can climb and slide with a friend or family member.
Safety is always our top priority, so we ask that you please make sure the first two riders are off of the slide before allowing the next rider to begin their climb. Our team will provide instructions on proper usage and safety guidelines upon delivery of the rental.
A Few Things to Know About our Inflatable Rentals
Some questions that will be answered in the paragraphs below:
How long are your rentals?

When will you deliver and pick up

Do i need to provide power
At 3 Monkeys, we want to make sure your inflatable rental experience is smooth and stress-free. To ensure that, there are a few things you should know about our rental process. Our inflatable rentals are for up to 8 hours long, and this rental period will be clearly stated on your contract. However, please note that this does not include delivery and pickup times.
We understand that timing is crucial for events, and we always strive to get everyone set up on time for the start of their event. Due to our busy schedule, we may need to come to your location as early as 5 hours (or more) before your event to set up your inflatable, or even drop it off the day before. We greatly appreciate your flexibility in this regard.
If your event is taking place at a public location, and we are required to set up and pick up the same day of the event, there is a $100.00 public location fee and a 3-hour window on each end. This fee ensures that we have designated a truck to your location on the day of your event.
At 3 Monkeys, we want to ensure that your inflatable rental experience is not only fun but also safe. That's why we provide blowers and cords with your rental, which are specifically designed to pull the correct amount of power for our blowers. While we appreciate customers who offer to use their own cords, we only use our own cords to maintain safety and quality standards.
When it comes to power supply, we prefer to plug in within 50' of the setup area but can plug in within 100' if necessary. If your setup area is more than 50' away from a power source, please inform our office so that we can bring a 100' cord. However, if there is no power within 100' of the setup area, you will need to provide your own generator or add one to your rental.
We do not connect cords together to plug in further than the 100' limit. Why? Because it can make the blowers work harder and wear out faster, which ultimately affects the firmness of the inflatable and compromises safety. We want to make sure that your rental experience is not only enjoyable but also safe, so please follow these guidelines when setting up your inflatable. If you have any questions or concerns about power supply or rental guidelines, please don't hesitate to contact our team.
We know that planning an event can be stressful, and we want to make the rental process as easy and convenient as possible. If you have any questions or concerns about our rental policies, please don't hesitate to reach out to our team. We're always happy to help and ensure that your event is a success!