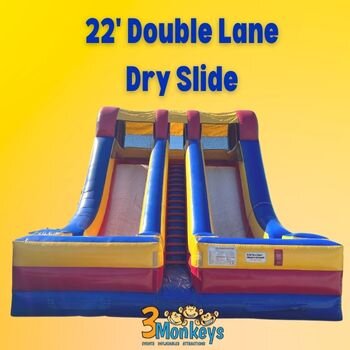 22' Double Lane Dry Slide
Actual Size: 25L x 20W x 22H





$419.00

Please call to reserve this item.

22' Double Lane Dry Slide Rental
Double Lane Inflatable Slide Rental in Central PA and Northern MD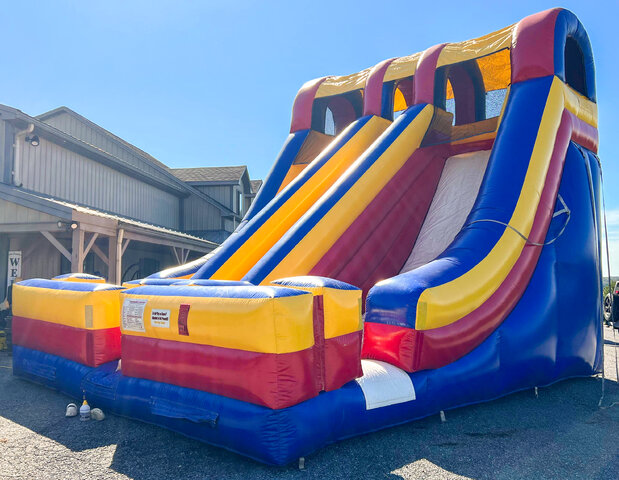 The 22' Double Lane Dry Slide Rental is a desired dry slide rental for those events where you are expecting a larger crowd or if you are looking to get a large group of sliders through in a smaller amount of time. This blow up slide is great for school carnivals, community days, church events, college events, corporate picnics, and more. The line flow on a double lane slide such as this 22' double lane dry slide rental, tends to go quickly which people not only like but often look for in a rental. There is one set of stairs going up the center of this inflatable and the stairs are flanked by the slides making this a double lane slide rental. Another great feature of the 22' Double Lane Dry Slide Rental are the safety nets built into the top of the unit for safe keeping of the rider when they are at the top of the slide.
Rules for the 22' Double Lane Dry Slide
Rules for the double lane dry slide are pretty simple. One of the most important safety rules is that riders are only to use this slide sitting on their bottoms, going feet first. This will help to ensure the safety of the rider. We also ask that the rider be seated at the top of the slide before they begin their descent. Another important rule is that one slider goes down the slide at a time. Under no circumstances should two or more people be on either slide at any time. Shoes and any sharp accessories must be removed prior to being a rider. Another safety precaution that some people tend not to think about are the stairs. You should only have one person on the stairs at a time. When they get to the top, then you send the next person. If you have 5 people on the stair panel and the person who is the highest would slip and go backwards, they are going to wipe everyone else who is on the stairs behind them, out! Just keep in mind that the best way is the safe way.
Other Items that Pair Well with Double Lane Slide Rentals
Dry slides are so fun that we have several to choose from in our inventory. In addition to our 22' double lane dry slide we also have an 18' double lane slide and a 24' double lane slide. These slide rentals tend to book quickly, particularly in the fall and the spring, so don't wait to book your double lane dry slide rental. Other inflatable rentals that pair well with a dry slide are our obstacle courses. These too have the tendency to keep a quick flowing line. We have obstacle courses that range from 30 feet all the way up to 115 feet! And, if you are looking for a slide in the summer, be sure to check out our waterslide rentals because not not only are they a ton of fun but they will help keep your guests cool.
How to Book a Slide Rental
You can book a slide rental on our website at any time. There is a live calendar to show you real time availability. You can begin by clicking the 'order by date' button in the upper righthand corner of the web site or you can click 'add to cart' on the item page you wish to rent. Once you click add to cart you will then be asked to choose your date. Once you choose your date you will need to choose the start time of your party and the end time of your party. Keep in mind our rentals are for up to 8 hours, so whether you rent for 3 hours or 8 hours the price is the same. Please choose your actual start and end times, not what you want your delivery time to be. We cannot guarantee any delivery or pick up times. In fact, we do ask that you have flexibility for delivery and pick up that if we need to deliver a day or so ahead of time or pick up a day or so after, we can do that. We only do this if we have to for our scheduling purposes, and you will be notified a few days prior to your party date when you are scheduled for the set up and the pick up of your rental. We do require a 25%, non-refundable deposit to book and hold the items you desire. Please only book what you know you want because once they are reserved, we cannot remove them from an order. If we have enough notice and we have availability we can replace or substitute items, but we cannot completely remove them from your order. If you would prefer to speak with one of our reservation specialists, please call the office between the hours of 9 a.m. and 5 p.m.Monday through Friday.
Slide Rental Delivery Area
You may frequently see our delivery trucks in cities located in Central PA and Northern MD. Some of our local cities of delivery are Felton, Red Lion, Brogue, York, New Freedom, Glen Rock, Stewartstown, Spring Grove, Harrisburg, Mechanicsburg, Manchester, Lancaster, Columbia, Millersville, Manheim, Lititz, Baltimore, Bel Air, White Hall, Cockeysville, Sparks Glencoe, Freeland, and more. If you do not see your city listed on the above list it does not mean that we do not deliver to your area. Please feel free to call our office to check the order minimum required to deliver to your city as well as the travel fee.
L